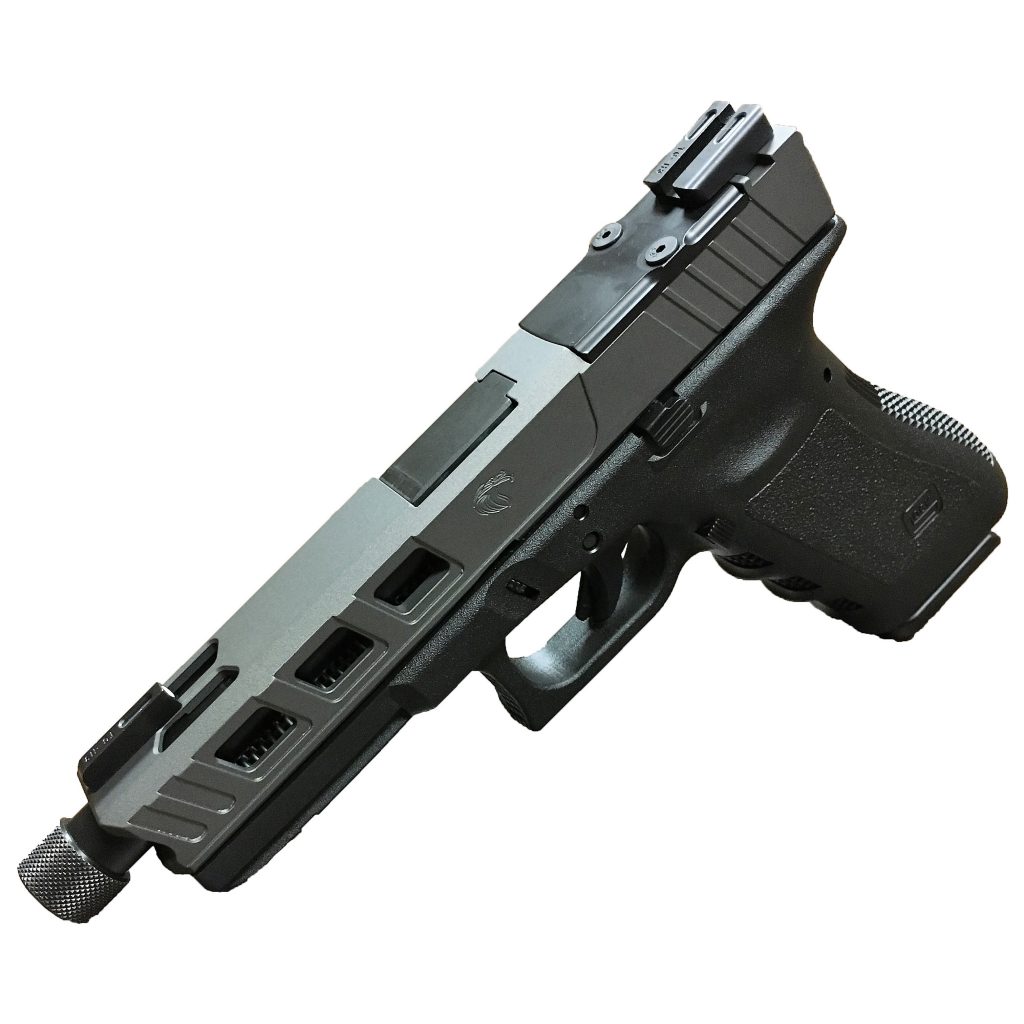 Live Free Armory Glock 17 aftermarket slide in Tungsten
Why bother with an aftermarket slide?
The most obvious reason is to replace a damaged slide or one showing excessive wear. Another reason might be to improve fit and function. Another reason and the one I like best, is because you can. In other words, aftermarket slides can be for looks, improved function, and greater accuracy.
Types of slides
You can get an aftermarket replacement slide for your Glock in many different configurations from a standard no-frills solid block pattern to a full-on custom piece of art complete with windows, optics cut, unique serrations, different finishes, paint schemes, and custom engraving. You can easily personalize your Glock into a one of a kind shooting machine. Many companies offer replacement slides and Optics Planet,  Glockstore,  US Patriot Armory, and Live Free Armory are just a few.
Here is something to keep in mind. Many companies offering slides are distributors and do not manufacturer anything. Be careful of those claiming to be manufacturers and are really just slick middlemen. If they lie about a thing like that, what else are they doing that's shady. Buyer beware is an understatement. 
To be clear, there is nothing wrong with purchasing from a dealer instead of directly from the manufacturer. Manufacturers and their dealers are two sides of the same coin. I prefer dealing directly with the manufacture as a first choice, but I have also been known to buy from dealers just for convenience sake.  Its nice to walk out with the product in hand, instead of having to wait for it to be shipped later.
For example, Live Free Armory is an aerospace and defense industry manufacturing company. It has a 13,000 square foot facility, located in Melbourne, Florida, that runs three shifts and boasts nearly 80 employees. Considering the company started in the garage of one of its owners, their growth and success speaks volumes.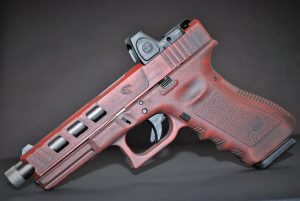 Glock-22 Conversion from 40 cal. to 9mm by Live Free Armory
What to look for
Quality is the biggest factor when selecting an aftermarket slide. Tight tolerances, clean lines, and American craftsmanship are a must for me. Some people prefer function over form so they don't consider finish or tooling marks important. Others may not care that their slides being made overseas in countries like Korea, Taiwan, or China. Those considerations matter to me so I always ask where its manufactured. I only buy American made and make sure they use American materials. Easy enough to verify if you are going through the manufacturer. 
I really don't buy for looks so I look for some type of functional improvement. For example, everyone knows that Glock ejection leaves something to be desired. Live Free Armory's Glock replacement slide corrects that issue. They have redesigned the slide to reduce weight and enhance ejection. On their slides the ejection is very positive. The spent casing are launched away from the gun instead of the usual mediocre ejection one has come to expect from Glock.
Price is also a factor but be careful to use it as your only benchmark. I have learned from experience that price alone should never determine your decision. I have learned the hard way that just because something is expensive, it doesn't mean its better. However, finding a bargain doesn't mean its bad. If you don't do your due diligence, you are walking a slippery slope to begin with.
You want to make an informed decision. There is a wealth of information out there if you know how to look. Reviews are a great place to start. Put more emphasis on reviews that are from people with verified purchases. Check YouTube and read through all the comments. You'll be able to tell who is trolling and who has something real to say. If enough people say the same thing, we call that an indicator, and probably something you should look at carefully.
Final thoughts
Buying an aftermarket slide is an individual choice. Why you need one, what design you prefer, and where its manufactured are all things to take into consideration. At the end of the day it all boils down to personal preference. If you are patient and do your homework, you will find the one you want at a reasonable price.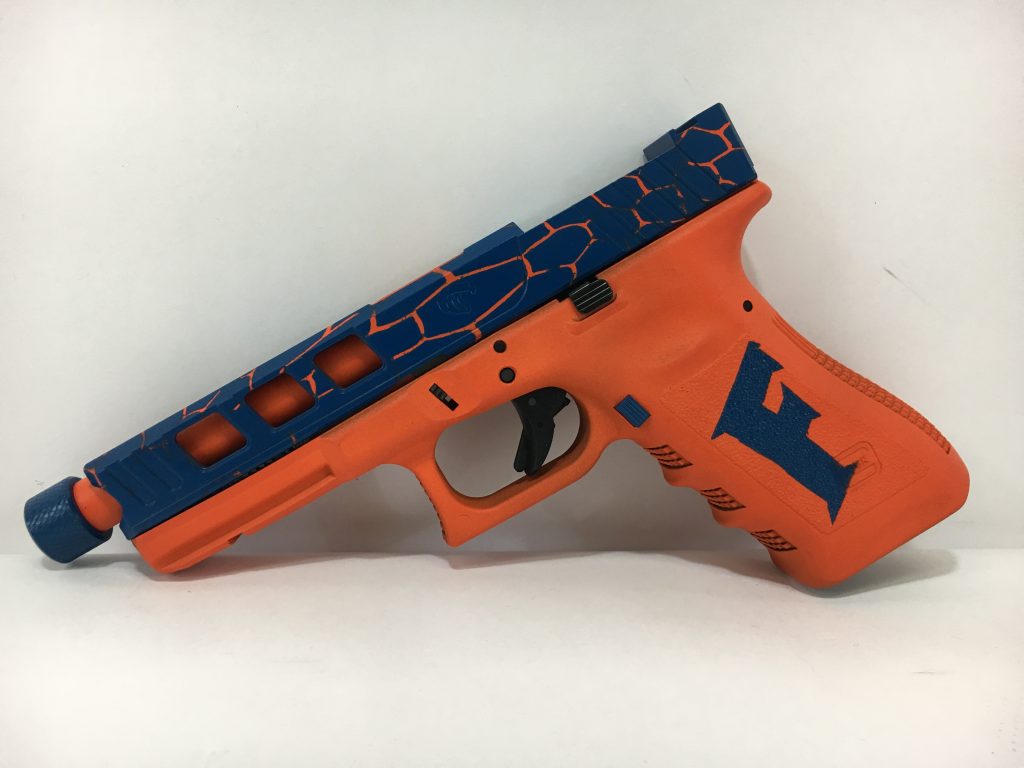 You can make it your own with a little imagination…
If you'd like more information or have any questions, feel free to email me at murgado.a@livefreearmory.com. Live Free Armory is here to help you whether you choose to buy from us or not. We believe that obtaining the right information should always be your first step.