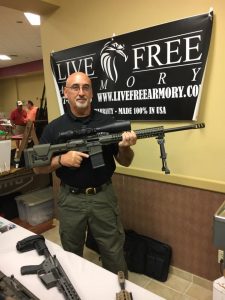 Amaury Murgado has an extensive military, law enforcement, and firearms instructor background. He retired a master sergeant from the Army Reserve in 1999 and retired a lieutenant from the Osceola County Sheriff's Office (Florida) in 2015. His last assignment at the sheriff's office consisted of his being the Special Operations Lieutenant in charge of Aviation, K-9, Motors, and Traffic (DUI and Aggressive Driving). He started working for Live Free Armory as an armorer/builder in 2016.
Amaury Murgado has over 140 published articles in law enforcement, security, and martial arts magazines. He has written for Law and Order Magazine, Police and Security News, Black Belt Magazine, Inside Kung Fu Magazine, and Tae Kwon Do Times, just to name a few. He has been writing for Police Magazine for the past seven years and currently has two columns; one for supervisors and one for newer officers.
Simply put, Amaury loves writing and loves firearms. His background and experience make him a perfect fit to write for Live Free Armory's blog, Live Free Insider.